Emergency Mortgage Loans For Homeowners
We represent over 400 Lenders, Many provide 1st, 2nd & 3rd Mortgages Even with:
Horrible Credit
Poor Cash Flow
Bankruptcy
Self-Employed
No Financials
Mortgage Arrears
Unemployed
Pension & Disability
Power of Sale
Property Tax Arrears
Under the new EXPERT MORTGAGE "85-Alive™" Program all you need is a property with 15% equity.
EXPERT MORTGAGE specializes in clients with bad credit and unprovable income. Because we have access to OVER 400 PRIVATE LENDERS we can offer mortgages to clients that most other mortgage brokers can't help. These private lenders are people like you who choose to invest in mortgages instead of the stock market. They want to make a good profit and help other people that through no fault of their own have some credit or income issues.
EXPERT MORTGAGE is one of only a handful of mortgage brokers that also has a FULL-TIME IN-HOUSE COMMERCIAL AND AGRICULTURAL SPECIALIST with over 15 years of commercial and agricultural expertise. We can help you obtain the lowest rates and best products for commercial real estate, business loans, equipment leasing, and factoring. For farmers, we can help you buy more land or newer equipment, repair or construction new buildings, and buy quota, even if you've had a bad year.
Expert Mortgage professionals have been providing effective financial solutions to clients for over two decades. We pride ourselves on giving the best possible service to our clients by using no nonsense credit application procedures and tirelessly searching out the lowest interest rates in Canada.
Essentially, we minimize the paperwork while maximizing the financial rewards. We do not involve the banks as we continually secure great quality mortgages for individuals with bad credit or cash income. We can offer you first, second, third, or even fourth mortgages. Even if you are months behind on your current mortgage payments you need not despair, we can help.
With a great deal of experience operating within the mortgage industry, we can appreciate the subtleties of your specific requirements. We make a point of treating every single one of our clients as an individual who needs a mortgage solution designed just for them. If you are considering refinancing your existing mortgage or buying a second home we will gladly use every tool at our disposal to help you achieve your goals. In an effort to make the laborious mortgage application process more streamlined, Expert Mortgage will equip you with a number of essential tools and services that will get you started on the right foot. The information on this website will explain the various types of financing available along with the benefits and inevitable drawbacks in detail. All of this is available to you for free.
If you have a specific question, then please get in touch with us directly and we will be happy to assist you. By contacting us via email or phone you can avail yourself of our expert advice and years of acquired knowledge. This will allow you to make an informed decision when it comes to your mortgage options.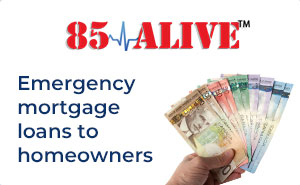 "I'm self-employed with bad credit related to a past business failure. My new venture was goiong great and I wanted to buy a home, but the bank would not qualify me for a mortgage. I didn't know about private lenders until I saw your flyer. Thanks for fulfilling my dream of being a home owner."
R.Z. Toronto, ON

We were 6 months behind on our mortgage and the sheriff was coming in 5 days to lock us out of our home. Every other mortgage broker said NO! I can't believe you were able to get us a second mortgage that fast. You saved our home and I will refer everyone I know to you.
C.C Oshawa