---
Become a Licensed Mortgage Agent with EXPERT MORTGAGE!
Here's Everything You Need to Know To Become a Licensed Mortgage Agent in Ontario
---
TYPES OF MORTGAGE BROKERS:
The first type of mortgage brokerage is SELF SERVICE. They offer their agents ZERO support in exchange for really great commission splits. Many will offer you a 90-10 split, but read the fine print because they may also ding you for monthly "desk fees" or other hidden charges. These SELF SERVICE companies are terrible for new agents because in your first year or two you need head office support to have a fighting chance to close files. 90% of ZERO is still ZERO. You will not close deals if you are left to fend for yourself with no support.
The second type of mortgage brokerage is FULL SERVICE. They claim to hold your hand every step of the way. They say they will train you and keep a careful eye on you. Many of these companies split commissions 50-50 or slightly better. However, some people who have worked for these companies have been ripped off in that a number of these brokerages purposely try not to train you too much so that you remain reliant upon them. That way you cannot run off elsewhere for a better split! Some of them use fancy marketing ploys like bragging that they have "in-house underwriters" on staff to submit your deals on your behalf. However, what they're trying to do is CONTROL your files and avoid training you on how to use the Filogix system. Some even claim that they advertise on your behalf and pass "leads" down to you. If you have ever seen the movie Glengarry Glenross, you know what head office "leads" are worth! Furthermore, beware of any FULL SERVICE company that charges you up-front fees for "training" or threatens to hit you with a "termination penalty" if you leave before your "contract" is up.
THE EXPERT MORTGAGE DIFFERENCE:
EXPERT MORTGAGE is unique in that we have cherry-picked all the good elements from both SELF SERVICE and FULL SERVICE brokerages, in addition to a very generous list of mortgage agent benefits that you can only enjoy through us. Just some of the advantages of working with EXPERT MORTGAGE are...
Free initial training and free ongoing agent support
Assignment of a DEDICATED MENTOR that will be your guide to the mortgage industry for as long as you work for our company. Your DEDICATED MENTOR is on 100% COMMISSION, so the more money he helps YOU MAKE, the more money HE MAKES!
Free marketing support from our FULL-TIME IN-HOUSE MARKETING SPECIALIST
Free credit inquiries
Free errors and omissions insurance. NO CAAMP or IMBA membership required
No ongoing desk fees or other hidden charges
All owners answer their phones 24-7 to field mortgage agent questions
Free access to OVER 400 PRIVATE LENDERS to help you fund difficult deals
FULL-TIME IN-HOUSE COMMERCIAL AND AGRICULTURAL MORTGAGE SPECIALIST so you don't have to pass on lucrative commercial and agricultural mortgage deals
Protection of your marketing territory so that other EXPERT MORTGAGE agents with the same powerful marketing tools are barred from competing against you while you invest advertising dollars farming an area (This point is very important! EXPERT MORTGAGE is the ONLY major company in the industry that bars our agents from competing against one another. That way we are a true team. Agents assist one another rather than breeding an adversarial relationship.)
Best of all, we offer a very, very competitive commission split of 75-25! Yes, that's right... true FULL SERVICE and you get to keep 75% of the total commission our brokerage receives on every one of your files. And, since we are NOT A FRANCHISE, there are NO HIDDEN FEES. Your commission split is based on 100% OF THE GROSS AMOUNT! (PLEASE NOTE: when a franchise charges you its franchise fee, they add HST to it. For example, if a franchise charges you 5%, once they add 13% HST, that amount becomes 5.65%... all these hidden fees add up!)
OUR GUARANTEE:
EXPERT MORTGAGE is so confident that you will love working with us that we DO NOT MAKE YOU SIGN A LENGTHY CONTRACT WITH HIDDEN CLAUSES (that's not a typo). Our contract is a simple agreement outlining what each of our responsibilities are. It protects you because it clearly states that other than the commission split and cost for your license, YOU PAY ZERO! It contains an "out clause" which allows you to leave at any time. Basically, if you are not happy working with us, give us short notice, and you can walk away without any obligations. No questions asked. No hard feelings.
I WANT TO JOIN EXPERT MORTGAGE! SO WHAT'S MY NEXT STEP?
If you are convinced that you want to join the EXPERT MORTGAGE team then please read the following facts before submitting your online general inquiry...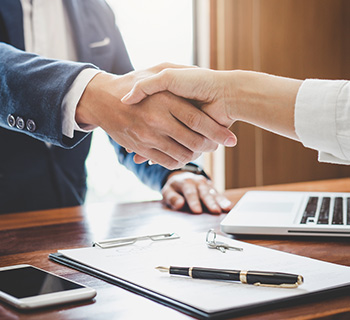 Our FULL-TIME IN-HOUSE MARKETING specialist will help you with marketing support, but ultimately YOU are responsible for obtaining your own clients
Our head office boardroom is available for you to meet clients, however most clients are just fine dealing by phone, fax, and email. On average only about 25% of mortgage clients actually meet their mortgage agents! Of the ones that do want a meeting, some clients prefer home visits, while others like to meet at neutral spots, such as coffee shops.
In our experience a competent full-time mortgage agent that follows the advice of our FULL-TIME IN-HOUSE MARKETING specialist will gross over $100,000 per year. If you wish you may work part-time as a mortgage agent, but please answer your phone at all times.
The goal of our FULL-TIME IN-HOUSE MARKETING specialist is for you to earn an income of SIX FIGURES IN SIX MONTHS! In other words, you svhould be grossing over $8,000 per month by the 6th month of joining EXPERT MORTGAGE. This goal is achievable because we believe very strongly in the principle of "EARN WHILE YOU LEARN". Therefore, we don't waste your time on long, boring seminars packed with theoretical material that won't help you become wealthy. Instead, our FULL-TIME IN-HOUSE MARKETING specialist provides you with a powerful, concise, one-on-one initial training session full of tightly-guarded industry secrets that he has learned over his 20 years of making mortgage agents wealthy. He then continues training you on the fly as you work on REAL deals in the REAL world earning REAL money.
We will consider all mortgage agent applicants, including those with criminal records, provided the offences did not involve fraud, theft, or any other crime of dishonesty or unethical behaviour. Everyone makes mistakes and we all deserve a second chance.
If you have not already completed the required mortgage agents' educational course then please visit fsco.gov.on.ca to learn more. Once you've written the course exam it will take 1-2 weeks for you to receive your official transcript. During that waiting period you are welcome to come in for an interview. As soon as you have your certificate of course completion in your hand we can register you and begin your training program.
You need a cellular phone and must be able to answer it at all times. If you let it go to voicemail most clients will not leave messages and you will lose them because they'll just call the next ad they see. That's why part-time mortgage agents working full-time at another job which does not allow them to answer their phone, rarely succeed in this industry.
You don't necessarily need a fax machine but you must at least have a virtual fax number. We can assist you with that.
If you plan on advertising in an area from which your cellular number is long distance then we strongly advise that you get a toll free number. We can assist you with that.
FSRA licensing fee for mortgage agents is $841 per year, pro-rated to April 1st, of each year (if you obtain a license part-way through the licensing cycle, the cost will be $70.08 per month you are licensed). When new mortgage agents first register with FSRA they must pay FSRA an additional one-time administrative fee of $100. If you are already a licensed mortgage agent under another broker and have decided to upgrade your brokerage to EXPERT MORTGAGE, you do NOT need to pay your license fee again. We will simply log into the broker network and transfer your license to our company with the press of a button, free of charge ... IT'S THAT EASY!
GO ONLINE. We STRONGLY suggest that you create an agent web page for advertising and to help clients submit mortgage applications directly to you. There is a one-time cost of $299. We will pay for your monthly hosting costs for as long as you stay with our company. If you prefer to build your own web page, feel free to do so, but first submit it to head office for approval. Download the Website information form from the EMIS system so our IT Department can create your pages.
For advertising purposes we strongly suggest that you register a simple domain name under .com, .ca, .net, and .org then point it to the agent web page created for you. Don't just register .ca or .com because one of your competitors will buy up the other domains and screw you.
We STRONGLY recommend each agent obtain business cards. Most agents choose the top-quality business card designed specifically for EXPERT MORTGAGE... or you can get them printed yourself. Professional in appearance, they are certain to impress a prospective client. Cost: Starting from $88.50 plus HST for 1,000 cards, printed and delivered to your door. PLEASE NOTE: If you choose to print your own cards final artwork must be submitted to EXPERT MORTGAGE for approval.
On joining you will be asked to provide EXPERT MORTGAGE with an "INEPTITUDE DEPOSIT" of $1,000 in certified funds. It will be FULLY REFUNDED to you right after you close your first deal. If you cannot close a deal within the first 12 months of employment with us, then obviously you are either putting forth zero effort or you are not obeying our instructions. Under those very rare circumstances you will forfeit your deposit for wasting our valuable time training and supporting you.
Unless you are hooked into a large network of people upon which you can draw mortgage business, we strongly suggest that you allow our IN-HOUSE MARKETING specialist to customize a marketing program for you. His services are FREE OF CHARGE to all EXPERT MORTGAGE mortgage agents. He has over 20 years of experience creating powerful advertising for the mortgage industry. To quickly get cash flowing in the door he suggests that you spend at least $250 per week over the first few months. It takes mortgage deals time to close, so budget for a worst-case bad luck scenario of 6-8 weeks from the time you start advertising to the time the first cheque rolls in. 8 weeks of zero income means that you should set aside at least $2,000 for marketing.
PLEASE NOTE: EXPERT MORTGAGE is the ONLY mortgage broker in Ontario offering such extensive support to agents. This results in a high volume of new Mortgage Agent applications each day. Therefore, we CANNOT accept telephone inquiries from new/ prospective Mortgage Agents. Instead, you MUST contact us by submitting an online inquiry, which we will forward to our Mortgage Agent Recruiter. Furthermore, do NOT contact us unless you have WRITTEN AND PASSED your Mortgage Agent examination.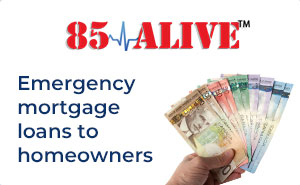 We were 6 months behind on our mortgage and the sheriff was coming in 5 days to lock us out of our home. Every other mortgage broker said NO! I can't believe you were able to get us a second mortgage that fast. You saved our home and I will refer everyone I know to you.
C.C Oshawa

"I'm self-employed with bad credit related to a past business failure. My new venture was goiong great and I wanted to buy a home, but the bank would not qualify me for a mortgage. I didn't know about private lenders until I saw your flyer. Thanks for fulfilling my dream of being a home owner."
R.Z. Toronto, ON