---
New program provides emergency mortgage loans and second mortgages to homeowners
---
As a Pilot project, Expert Mortgage launched the "85-Alive" program in Ontario. The concept was simple: as long as you had a pulse, Expert Mortgage would provide you with a home equity loan, up to 85 per cent of the value of your property. No job required. Bad credit, OK.
The reason why Expert Mortgage could offer a "no questions asked" lending program, while the major banks could not, is that they represent over 400 private lenders who lend strictly on property value. These subprime lenders specialize in mortgage clients who have had some bad luck, and need a helping hand until they get back on their feet. The program has been so successful that Expert Mortgage can barely keep up with the volume of calls.
To help fund this unexpectedly large number of borrowers, it has partnered up with dozens more private lenders. Licensed Mortgage Broker, and CEO George Moutsouroufis, Expert Mortgage's "85-Alive" specialist says, "We're seeing mostly homeowners behind on mortgage and property taxes. The banks are refusing to restructure their loans. Many of these people have lost jobs due to the bad economy… or they're self-employed. Unless you are a perfect applicant, the bank doesn't want to talk to you." But not everyone condones Expert Mortgage's easy lending criteria.
A local real estate agent with 25 years of experience, who has asked to remain anonymous, says, "When this market turns down, it's going to get ugly! It's utter financial suicide for Expert Mortgage to be giving money away so easily to clients without the ability to make payments. I'd be surprised if they're still in business five years from now."
Nonetheless, homeowners like Anita P. don't see a problem with the program. When questioned on how she plans on making payments on her mortgage when she has no income, Anita responds, "We were four months behind on our mortgage and they saved our house. My husband has been unemployed for nine months. He won't be unemployed forever. We used the 85-Alive loan to pay off all our debits. We also had $25,000 left over that we put in the bank for emergencies. And to make life easy, they worked it out so we have no mortgage payments for 12 months."
For more details on the "85- Alive" program, contact:
Contact Form
(647) 724-8100
or fill out the quick form and I will help you right away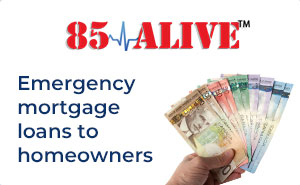 "I'm self-employed with bad credit related to a past business failure. My new venture was goiong great and I wanted to buy a home, but the bank would not qualify me for a mortgage. I didn't know about private lenders until I saw your flyer. Thanks for fulfilling my dream of being a home owner."
R.Z. Toronto, ON

Our credit was destroyed after we had a bad year. We needed to expand our facility. I explained to the bank but they declined us. I never heard of your no questions asked private loan but you gave me $500,000 with no paperwork. That was a Godsend. I appreciate it from the bottom of my heart.
M.S Toronto