Making an Offer to Purchase
Once you have found the home you would like to purchase, you need to present the vendor with an Offer to Purchase or an Agreement of Purchase and Sale. As your home is probably your biggest investment, it would be wise to work with your real estate agent and/or a lawyer/notary in preparing your offer. Remember that the Offer to Purchase or Agreement of Purchase and Sale is a legal document and should be carefully prepared.
Any offer or agreement will typically include:
Your legal name, the name of the vendor and the legal civic address of the property.
The purchase price offered.
The chattels that will be included in the purchase price (for example, window coverings, appliances). Whatever items in or around the home that you think are included in the sale should be specifically stated in your offer.
The amount of deposit.
The closing day (date you take possession of the home) — usually 30 to 60 days from the date of agreement. It can also be 90 days or longer. Generally, an Offer to Purchase obliges the purchaser to take possession of the house and property on a certain date. As of the closing date, the purchaser is responsible for taxes, utilities, repairs and maintenance.
Request for a current land survey of the property.
Date when the offer becomes null and void — that is, it is invalid.
Any other conditions that go with the offer, including property inspection and approval of mortgage financing.
The process of making an offer, receiving a counter-offer and then revising it again is not uncommon. The whole process can seem like a roller coaster ride — exciting, but stressful. It's all part of making the deal work best for you and the vendor.
The diagram below outlines the entire process for you in detail.
Steps for the Offer to Purchase
You
Your real estate representative helps you prepare an Offer to Purchase. This offer should include all the details of the sale.
You may want your lawyer to look at the offer BEFORE you show it to the vendor, because it is a legally binding document.
Your real estate representative or lawyer will then present the offer to the vendor, who will accept (Situation 1), make a counter-offer (Situation 2) or reject (Situation 3).
Vendor
Situation 1
The vendor accepts your offer.
The deal is concluded.
Situation 2
The vendor may make a counter-offer, asking for a higher price or different terms.
You sign the offer back to the vendor with a higher price than your original offer, but lower than the vendor's counter-offer.
The vendor accepts this counter-offer. The deal is concluded.
Situation 3
The vendor may make a counteroffer, asking for a higher price or different terms. If a counter-offer is returned to you at a higher price, ensure that you know exactly how much you can afford before you start negotiating. You don't want to get caught up in the heat of the moment with costs you can't afford.
You reject the counter-offer and decide not to make a subsequent counter-offer.
The sale doesn't go through and your deposit is returned.
When you make an Offer to Purchase, your real estate agent or your lawyer/notary will most likely add certain conditions to it, making it a conditional offer. This means that the contract will only become final when the conditions are met. The following three conditions are generally standard in an Offer to Purchase, especially for first-time buyers:
1. A satisfactory home inspection report
2. A property appraisal
3. Lender approval of mortgage financing to finance the purchase
Once these requirements are met, the conditions are removed and the Offer to Purchase becomes final.
Home Inspection
It is always a good idea to have the home you are buying inspected by a knowledgeable and professional home inspector. The inspector will go through the property and perform a comprehensive visual inspection to assess the condition of the house and all of its systems. When you receive the home inspection report, you and your real estate agent will have to discuss whether the condition of the home warrants withdrawing your offer to purchase or how the required repairs may affect the sale price that was agreed upon. (Refer to Step 5 for details.)
A pre-delivery inspection (PDI) may be a requirement in closing the purchase of a newly built home. Be aware that pre-delivery inspections are fairly specialized and not all home inspectors have experience in this area. Note also, that some builders have policies concerning who may be present during the pre-delivery inspection so it's best to inquire with the builder during the negotiation of the sales agreement whether or not this is possible.
New Home Warranty Programs
Generally new home warranty programs are provided by provincial and territorial governments, but there are private new home warranty programs. These warranty programs are not available in Nunavut and the Northwest Territories. Check with your real estate agent or lawyer/notary to find out what the new home warranty program in your province or territory covers.
Warranty coverage varies from one province and territory to another, but typically covers labour and materials for warrantable items in your new home for at least one year after completion. It is also intended to address structural defects for a minimum of five years, and up to 10 years with some extended coverage options. A dollar cap is common. Make sure that you know what is covered by the New Home Warranty program in your province or jurisdiction. Don't confuse the builder's warranty with the New Home Warranty. Before you sign a contract for a new home, contact your New Home Warranty Program office for a list of registered builders in your area. Contact information is provided at the end of this Step.
For Condominiums or Strata Units
To buy a resale condominium or strata unit, you will have to get a satisfactory Estoppel Certificate or Certificate Status (does not apply in Quebec). This should be included as a condition in the Offer to Purchase. If condominium living is your housing choice, visit www.cmhc.ca and download your free copy of CMHC's Condominium Buyers' Guide.
Mortgage Approval
A pre-approved mortgage certificate is not a guarantee of being approved for the mortgage loan. Even if you have a pre-approved mortgage certificate, you must still meet your lender during the conditional offer period to get a final mortgage approval. To ensure that the process goes smoothly, make sure you bring:
A copy of the property listing; and
A copy of the signed Offer to Purchase
Your lender will update/verify your financial information, and put together the information required to complete the mortgage application. Your lender may require an appraisal and/or a survey. Title insurance may also be required. Your lender will also inform you about the various types of mortgages, terms, interest rates, amortization periods and payment schedules available.
Depending on your down payment, you may have a conventional or high-ratio mortgage.
Conventional Mortgage
A conventional mortgage is a mortgage loan that does not exceed 80% of the lending value of the property. The lending value is typically the lesser of the property's purchase price and market value. Your down payment is at least 20% of the purchase price or market value.
If you contribute less than 20% of the home price as a down payment you will typically need a high-ratio mortgage. This type of mortgage usually requires mortgage loan insurance, of which CMHC is a major provider. Your lender may add the mortgage insurance premium to your mortgage or ask you to pay it in full upon closing. (Refer to Step 2 for details.)
Fixed, Variable or Adjustable Interest Rate
Mortgage interest rates are either fixed, variable or adjustable. A fixed rate is a locked-in rate that will not increase for the term of the mortgage. A variable rate fluctuates based on market conditions while the mortgage payment remains unchanged. With an adjustable rate, both the interest rate and the mortgage payment vary based on market conditions.
Closed Mortgage
A closed mortgage may be a good choice if you'd like to have a fixed payment that will allow you to adjust your budget to your new lifestyle. However, closed mortgages are not flexible and there are often penalties or restrictive conditions attached to prepayments or additional lump sum payments. It may not be the best choice if you decide to move before the end of the term or if you want to benefit from a potential decrease of interest rates.
Open Mortgage
This type of mortgage is flexible and can usually be pre-paid by any lump sum or paid off at any time without penalty. An open mortgage can be a good choice if you plan to sell your home in the near future or to pre-pay with large lump sums. Most lenders will allow you to convert to a closed mortgage at any time, although you may have to pay a small fee.
Term
Your lender will also tell you about the term options for the mortgage. This is the length of time that the agreed-upon mortgage contract conditions, including interest rate, will be fixed. It can vary from six months to 10 years. Choosing a longer term (for example, five years) gives you the chance to plan ahead and protects you from interest rate increases while you adjust to homeownership. Weigh your options carefully and don't be afraid to ask your lender to work out the differences between a one, two, five-year or longer terms.
Amortization
This is the amount of time over which the entire debt will be repaid. Many mortgages are amortized over 25 years, but longer periods are available. The longer the amortization, the lower your scheduled mortgage payments, but the more interest you pay in the long run.
Payment Schedule
A mortgage loan is often repaid in regular payments, either monthly, biweekly or weekly. Payment schedules that are more frequent can save some interest costs by reducing the outstanding principal balance more quickly than with monthly payments. The more payments you make in a year, the lower the overall interest you have to pay on your mortgage.
Keep in mind that mortgages may have important payment features that can save you money and let you be mortgage-free sooner.
Once the Offer is Accepted
Once all the conditions of the offer are fulfilled or dropped, it is time to start thinking ahead and making arrangements:
Give notice to your landlord if you are renting.
Start looking at moving options — hiring a professional or doing it yourself.
Make necessary address changes (utilities, services, post office).
Arrange for property insurance.
An offer will usually include a clause that allows the buyer to revisit the property a couple of times before closing (after all the conditions are fulfilled) so that he/she can:
Measure for window treatments.
Measure for special-sized furnishings.
Bring in a tradesperson for a renovation or remodelling estimate.
Arrange for these visits in advance to make sure your real estate agent is available
With today's market flooded with a number of mortgage products, you need the help of a mortgage professional to make the right decision. In case you are a first-time homebuyer or even if it's your second time around, consulting a mortgage expert will prove extremely beneficial.
As a first time home buyer, you are usually unaware of the financing plans that are available. You must know how to pick the right one for your specific needs along with the legalities involved. I can assist you by providing the right advice, and making the application process lucid, simple and error-free.
Even if you have done this before, you might not be well informed of the latest rates and packages available. To ensure the mortgage you choose is tailor-made according to your needs, get in touch with me at the earliest.
Just fill in this simple online form with your details and click submit, and I will get back to you with a mortgage solution that best suits your requirements.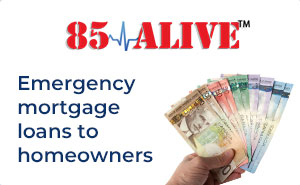 "I'm self-employed with bad credit related to a past business failure. My new venture was goiong great and I wanted to buy a home, but the bank would not qualify me for a mortgage. I didn't know about private lenders until I saw your flyer. Thanks for fulfilling my dream of being a home owner."
R.Z. Toronto, ON

Our credit was destroyed after we had a bad year. We needed to expand our facility. I explained to the bank but they declined us. I never heard of your no questions asked private loan but you gave me $500,000 with no paperwork. That was a Godsend. I appreciate it from the bottom of my heart.
M.S Toronto